Whimsy is one of those words that has immediate appeal. You find this definition
playfully quaint or fanciful behaviour or humour.
Of course, this behaviour or humour is annoying when one is in crisis. Then one is supposed to be serious. But even then, and perhaps especially then, the human psyche longs for playfulness. So, for example, surgeons joke with nurses as their fingers perform life saving miracles in the operating room. Cool as cucumbers?
But how does one nurture whimsy? My theory is that it comes from how we use language. Our moods follow our words. When we use harsh words, the resultant mood lasts far longer than the roaring soliloquy we deliver at the pub. In contrast, when we use playful words, we start nurturing a more engaging attitude towards life and the various people who inhabit our lives.
It is a bit odd, therefore, that I cannot think of all that many authors who nurtured whimsy as a critical part of their writing style. Many of the great story tellers were and are serious. Even stern. Like Flaubert. Like But there are exceptions. And these exceptions are often not given their due in the annals of literary fame and fortune.
Consider Somerville and Ross.  Here is how they open their story, "Experiences of an Irish R.M."
A Resident Magistracy in Ireland is not an easy thing to come by nowadays, neither is it a very attractive job; yet on the evening when I first propounded the idea to the young lady who had recently consented to become Mrs. Sinclair Yeates, it seemed glittering with possibilities. There was, on that occasion, a sunset and a string band playing The Gondoliers, and there was also an ingenuous belief in the omnipotence of a godfather of Philippa's – (Philippa was the young lady) who had once been a member of the government.
BTW, the stories that Somerville and Ross wrote about Yeates et al spilled over into 3 books. The first one appeared in 1889. The third and final book appeared in 1915.
Notice the intersection of the real needs in life (a job) with the more important appetites for life (love). I say intersection rather than collision because there is a softness in the tone of the writing. You can almost hear the writers laughing as they conjure up the story.
Indeed, Somerville and Ross did laugh while they wrote. They were two pees in a pod. Two Anglo Irish women who loved each other's company at least in part because of their love of the values that they shared. And shared whimsy played a part in binding them together. Thinking that it might be viewed askance that two women would write such books, they used male sounding author pseudonyms. That might have troubled other women, but Somerville and Ross cared not a jot about that. They had more important things on their minds.
Here they are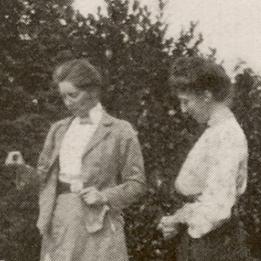 The Folio Society edition of this book offers illustrations by the great Paul Cox. I say "great" because Mr. Cox's illustrations are oozing with whimsy. You catch a bit of that here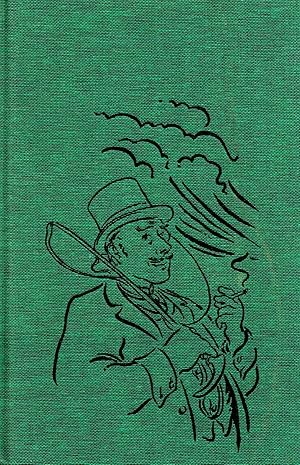 I rather like Cox's style. Here is another example
and here
A nice way to start the day, I would say!