Here he is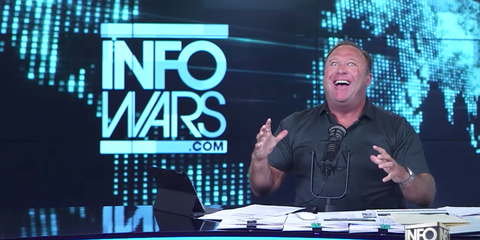 There was a time when I would not have given a dude like Alex Jones the time of day. Why not? The conspiracy lies that he circulates, like the Sandy Hook massacre was a put up job, are beyond gross.
But he has used social media to build a following, and he has had that following for a long time now. Finally, he is getting yanked from social media platforms.   None too soon.  The weird thing is that he is not getting yanked because he spreads false information.
… the platforms cited hate speech, not misinformation and propaganda, as reason to ban Jones' programming. While consistently peddling false information with no regard for evidence or fact is a public menace, it's also the purview of the current president. (Donald Trump has appeared on InfoWars and praised Jones' "amazing" reputation.) Plus, it's a tougher case than these platforms simply saying Jones is using them to spread conspiratorial hate that leads to real-world harassment.
The question is how to protect ourselves from the next Alex Jones. And the one after that dude. Because his type of nonsense has become a fixture in 21st century America media.