"Pas commes les autres" is a phrase from the Miss Marple webpage and it means "not like the others". Of course, the name itself "Miss Marple"  — a decidedly British name — is nothing like the names of other cafes and restaurants.
Inside, you get the sense of reasonable and orderly decorum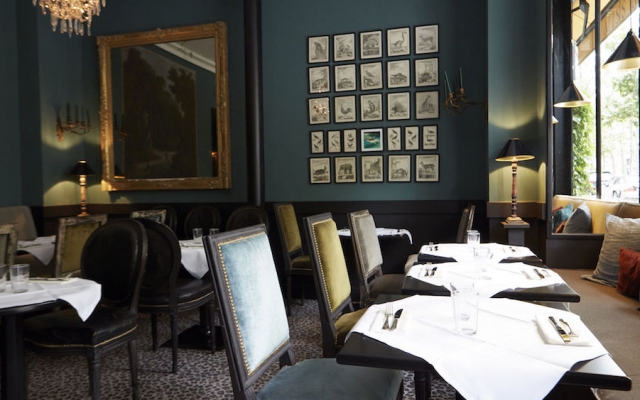 As Miss Marple would have expected.
And what do visitors find there?
A chic blend of London, New York, and Paris, this café is just minutes from the Eiffel Tower and perfect for a stylish Rive Gauche coffee and cake break. From its fluffy scones to its moist orange cake, everything is made in house and is 100% organic.
In the odd chance that you may not be acquainted with the fictional Mss Marple
She is one of the best known of (Dame Agatha) Christie's characters and has been portrayed numerous times on screen. Her first appearance was in a short story published in The Royal Magazine in December 1927, "The Tuesday Night Club",[3] which later became the first chapter of The Thirteen Problems (1932). Her first appearance in a full-length novel was in The Murder at the Vicarage in 1930 and her last appearance was in Sleeping Murder in 1976.
And
The character of Jane Marple in the first Miss Marple book, The Murder at the Vicarage, is markedly different from how she appears in later books. This early version of Miss Marple is a gleeful gossip and not an especially nice woman. The citizens of St. Mary Mead like her but are often tired by her nosy nature and how she seems to expect the worst of everyone. In later books, she becomes more modern and a kinder person.
If you find yourself in Miss Marple, you could do worse than peruse a copy of "The Murder at the Vicarage". It may not be the ultimate Christie, but it is most entertaining!
If you have already enjoyed the Miss Marple series, I am sure that Dame Agatha would not mind your bringing one of Allingham's Campion books. I rather like "Police at the Funeral".