Here is Ham House, a jewel of a house and a stately pile if there ever was one
Looks nice!
. Set in the midst of its level lawns and peaceful gardens, Ham House presents itself today as an oasis of calm surrounded by the noisy, westward sprawl of the metropolis. Yet, its present cosetted tranquility belies its bustling past, for it was once a hive of activity – political, social and cultural.
To understand why, you need to go back in time to the reign of the Stuarts in Great Britain. That reign began by accident, in a way, accident of a lack of birth — the last Tudor, Elizabeth I had no children and so the first Stuart, James I came to the throne from Scotland.
Built by a courtier in the reign of James I, i(Ham House) remained a courtier's house well into the reign of his grandson, Charles II. Better than any other furnished mansion that has survived from the seventeenth century it conveys a sense of what life was like for those who were industrious and fortunate enough to work their way to the top of Stuart government and society. Moreover, it does this, not merely for one particular period of the seventeenth century, but repeatedly for the major part of it.
If you need a playing card to keep track of his history, James I ruled from 1603 to 1625.  He was the son of Mary, Queen of Scots. James I handed over the throne to his son, Charles I. Ah, yes, THAT Charles. The one that was beheaded at the close of the civil war in 1649.
.
–
Some thought that the sky would fall and the wrath of God would engulf the world. Instead, the Lord Protector emerged, Mr. Cromwell. who ruled from 1653 ti 1658. Cromwell was not a particularly handsome man, and you can see that certain tough quality that he had in this portrait
–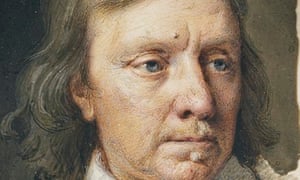 –
Then came the restoration, and Charles II who ruled from 1660 to 1685.
.
So yes, this was a tumultuous time. There have been many stories told about it. Even Conan Doyle gave it some play in  The  Musgrave Ritual.
–
–
And you might give a novel about a real character from that period a try.
Anita Seymour has written "The Royalist Rebel"
. It is the story of Elizabeth Murray, the Countess Dysart and later Duchess of Lauderdale — who called Ham House "home".
.
–
Or, you might just check out Ham House! A jewel of a house and a stately pile if there ever was one!