If you could afford it … and I mean that money is no object  … where would you like to spend your time?
You might want a palatial home somewhere, and perhaps a place to escape to. But you probably also would like a "pad" in town. What town? Historically, London was one of those places that offered pretty much everything to those who could afford it. And where in London? Hmmm …
Younger folks might go for trendier areas. Places where hipsters, foodies, digital nomads, etc. gather and party. These days, perhaps Peckham? But if you are beyond that sort of scene, and are looking for the creature comforts of big city living,  Mayfair has to be considered.
Mayfair,(is) synonymous with luxury and elegance, where the shopping meccas of Old Bond and New Bond streets converge, where a dinner tab at Claridge's or the Connaught can set you back a week's wages (but where the people-watching is worth the price of admission), and where "putting on the Ritz" means more than checking into the luxe Piccadilly hotel.
Hmmm … remember in this fantasy episode, money is not an issue.
And where in Mayfair?  Shepherd Market?
Shepherd Market is a square developed between 1735 and 1746 by Edward Shepherd from an open area called Brook Field, through which flowed the Tyburn, and where a May fair was held, from which the surrounding area of Mayfair derives its name.[3] Shepherd, a local architect, was commissioned to develop the site and work was completed in the mid-18th century. It contained paved alleys, a duck pond, and a two-storey market topped by a theatre.
It has a roguish history
During the 1920s, Shepherd Market was a rundown area, popular with writers and artists such as Michael Arlen and Sophie Fedorovitch.[4] Arlen rented rooms opposite The Grapes public house and used Shepherd Market as the setting for his best-selling 1924 novel The Green Hat, which prompted Anthony Powell to move into the area in 1926
And it was known for upscale prostitution, and rock stars. In a weird coincidence, both Cass Eliot and Keith Moon kicked the bucket  at Flat 12, 9 Curzon Place. Not at the same time, mind you. If you want to walk around Shepherd Market, and a peek in the Shepherd Market Wine House, check out this link!
But Mayfair has a lot more to offer! Lot's, lot's more. We will look at just two streets – Curzon Street and Half Moon Street.
As you can see from the map, Curzon Street is parallel to Piccadilly, whil Half Moon intersects it.
Oscar Wilde's Lord Goring had a house on Curzon Street.  Rather grand! Roald Dahl's character Henry Sugar lives on Curzon Street, and causes a disturbance by throwing large amounts of money down into the street from his balcony. In the real world, among other luminaries, Disraeli lived there.
You also will find Crockford's Club on Curzon Street. BTW, this is not the original Crockford's. That establishment, founded in 1823, then closed in 1845, then re-opened in 1928 was finally closed in 1970.. It was located on St. James's.  Old man Crockford was quite the character
He fleeced the aristocracy by taking a charge on every bet laid, and in the process amassed a fortune estimated at the time of his 'retirement' in 1840 to have been £1,200,000 in the currency of the time,[4] certainly enough to establish homes at 11 Carlton House Terrace at which he died (later to become Prime Minister William Gladstone's home) and at Panton House, Newmarket
Just for fun, here is the original site, which became the Devonshire Club. More recently, the site at 50 St. James's was bought by a Russian billionaire who has redeveloped it into another exclusive club.
The new Crockford's Club aspires to the original idea that made the original Crockford so rich.  It s decor is not understated.
Curzon Street offers a treat that is more to my taste which is more understated— the Heywood Hill bookshop.

But let's move on! What about Half Moon Street?
Although Half Moon Street is now one of London's most luxurious and sought after addresses, back in 1880s Victorian London it was a highly colourful and bohemian place, where "confirmed bachelors," artistic types and theatre people lived and socialised.
It is an odd name, don't you think?
The street was named after the raucous "Half Moon" public house which stood on the corner with Piccadilly. It was where Oscar Wilde spent his free time.
Wilde again! Sadly, the Half Moon public house  is no more. But all is not lost. There are other options nearby
the Audley on South Audley St and Mount St, … is good. It … was built back in the 1890s to superior specifications as the most luxurious public house in the area. Food is a bit expensive, but this is the most expensive part of town
(a) favourite in the area is the Red Lion in Waverton Street, which a lot of people find hard to find as it's away from the busy areas:
While talking about Half Moon Stree,t, you would have to mention Flemings.
It opened in 1851, making it one of London's oldest hotels.
Flemings Mayfair London was founded by Robert Fleming in 1851. A stained glass window in the hotel celebrates this date, portraying the Great Exhibition of 1851 at Crystal Palace.
Robert Fleming was born in 1820. His father, William Fleming, was a victualler. Robert worked for the Marquis & Marchioness of Angelsey, serving them at their house at 1 Old Burlington Street in Mayfair.
In 1851 Robert Fleming owned and ran a lodging house at number 10 Half Moon Street (believed to have originated in 1730). Robert Fleming started running what he called a 'private hotel' in 1855, at 9 & 10 Half Moon Street
Flemings has recently had a serious upgrade, and like the area, it has a posh feel.
Indeed, the residences on Half Moon Street  are targeted to those whose monthly credit card bills tend towards the six digits. This address was advertised a few years back for £14 million
Here is the promo
The historic Grade II listed house which inspired Oscar Wilde's play "The Importance of Being Earnest" (1895) is on sale for £14 million ($18.2 million).
Wilde (1854 – 1900) based one of the play's main characters, Algernon Moncrieff's bachelor pad on the property, which is at 14 Half Moon Street in London's Mayfair.
Wilde yet again!  He placed at least two major characters from his plays in Mayfair – on Curzon Street and on Half Moon Street and apparently fancied a tipple at the Half Moon public house. BTW,  to my knowledge, Wilde never actually lived in Mayfair, though it is written that he was a regular visitor to Brown's Hotel on Albermarle Street.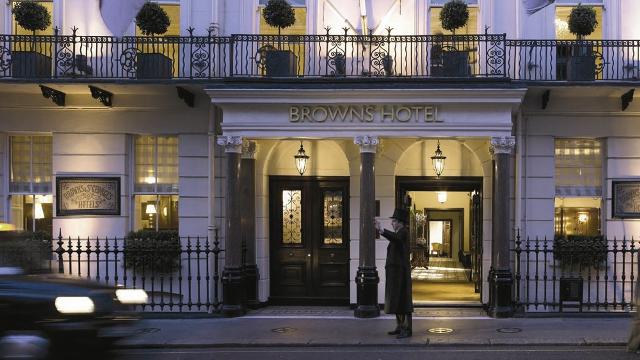 Brown's is for those who want a grand hotel, but not the pomp that you get at nearby Claridges. Here is a peek at their lobby
Claridges was founded in 1812 under another name. But the current building dates from 1894.
The reputation of (Claridges) was confirmed in 1860 when Empress Eugenie made an extended visit and entertained Queen Victoria at the hotel.
In fact, Wile is best known for  a residence that he bought on Tite Street in Chelsea.  And yet, you cannot blame the marketers for associating Wilde with Mayfair The ambiance just sort of fits, don't you think?
That is an ambiance that is hard not to like.