You had to be there.
When Adam West played Batman on American TV back in 1966. "camp" was in. And West's Batman was very campy indeed.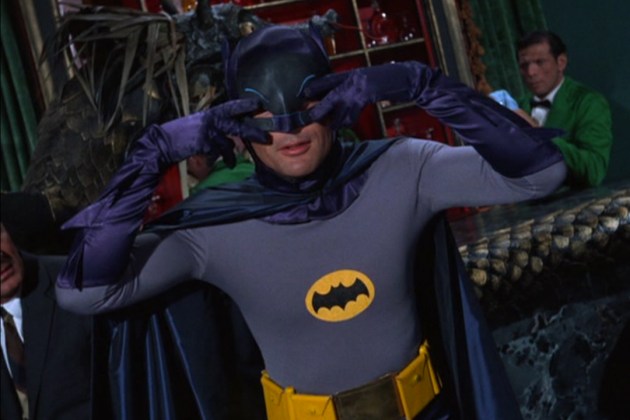 As you can see from the pic above, West was not flashing a 6 pack., And the action scenes were more like this
Unlike our more recent indulgences in comic book stories, this iteration did not take itself very seriously.
The great thing about Adam West is that he didn't take himself too seriously either.  He knew that after Batman he was typecast for life, and he made the most of it.  Then …
It turn(ed) out that one of (his) '60s Batman fans, Seth MacFarlane, got his own show on Fox called Family Guy and promptly made West the mayor of the show's fictional city of Quahog, Rhode Island. 
And Adam West took his camp seriousness to a whole new level as Mayor West. Check out the above link to see some video of West as Batman, Mayor West and in the Simsopns!
Thanks Adam!
Errr … one last thought. Watching Adam West boogaloo as Batman, I have to smile. It really was silly in the extreme. And that is what made it so popular back then. Things would get more serious just a few years later in 1968 when King and Kennedy were killed and Nixon elected.