Of course, it starts with inspiration. That can come from many, many places. Perhaps the great food that you enjoyed from your mom or dad or friend. Perhaps from watching a cooking show. Wherever, you find yourself in the kitchen, thinking "what now"?
That was me around over forty years ago. I started with very, very low ambitions – making a better cup of coffee. I bought a cheap Neapolitan flip pot.  Something like this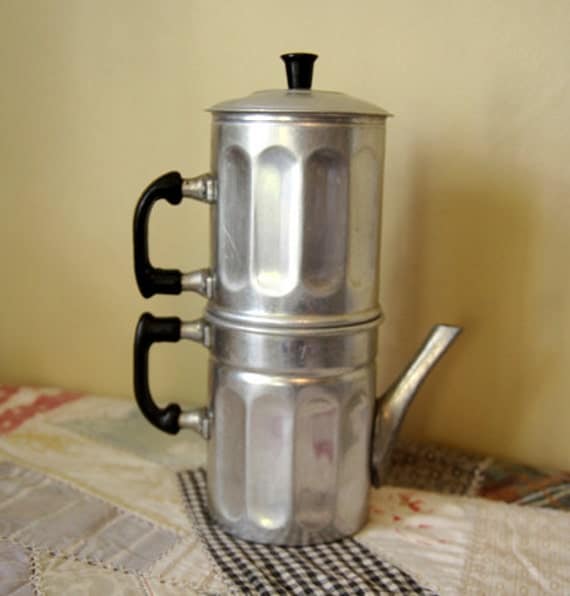 As important, I bought fresh roasted coffee.
BTW, did you know where this design comes from?
… the pots were likely invented in Naples in the 17th century, and were modeled after an earlier coffee pot invented by the French Archbishop Jean-Baptiste de Belloy.
And — if you want to learn the bets way to use them — Serious Eats has a few ideas for you. Enjoy!
I was hooked. That is not to say that I cooked very well.  All I can claim now, looking back on this, is that I started to enjoy being in the kitchen. It was fun.
But where to learn how to cook? My tool of choice was the cookbook. And I have a really, really big library of cookbooks, purchased over the years. These are fun — to a point. And I have re-doubled my inspiration from great food writers like David, Fisher etc. But sad to say, I cannot say that using written materials made me a great chef.
What was missing? Very simple. To get better at the process of making food, you need ongoing conversation about what you are doing. That is where ideas for doing things better come from. And btw, that is where ideas for getting better at anything come from.
This explains why a food blog like Smitten Kitchen is successful. It is not just a blog, its creator, Deb Perelman makes it a central conversation hub for exchanging ideas. And it works because Deb builds trust and fun in the exchanges.  Here she is
Here she is in an interview with NYT
She says that it has worked because she loves what she does.
And of course, as Debs says, she has a new cookbook out.
I like what Deb is doing because (1) she seems like a nice person who is having fun herself. (2) she gets that learning has a social dimension and that when you insert that social dimension, it is fun, and (3) she is into food. Yum!
Great!