Simon Williams holds a rather special, nostalgic place in the hearts of people my age. He is the actor who played James Bellamy in the TV series, Upstairs downstairs.  Here he is as James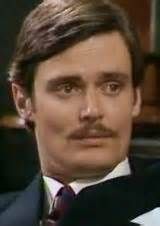 What is the big deal? In the story, James is the only son of an  Edwardian upper-middle-class London family, the Bellamy's. James and his family have certain expectations how his life will turn out. But the world changes. James tries to find a place in the new world order, but you always have the feeling that things will not quite work out. And they don't.  His demise ends the series. For young men who at that time were about to embark on the real journey of life, James's story was engaging and his end, sobering, to say the least.
But Simon Williams, of course, lived on and has prospered as an actor. Back in 2011, The Telegraph did an interview with Williams about where to say and what to do in Biarritz.
I am not sure that the recommendations are still on point, but I enjoyed  it and for lunch? Here is Simon
I like Café Dodin (5922 1043) on the seafront. You can have a hot chocolate or a bite to eat – I'd suggest the fish – while you watch the waves crashing on to the beach.
Sounds fine by me!